Who hasn't wished for tie dye nails after seeing them?
The experts at Kiko Milano have shared a tutorial so that you can do that at home and have perfect nails! All the necessary products can be found at their shop at the mall.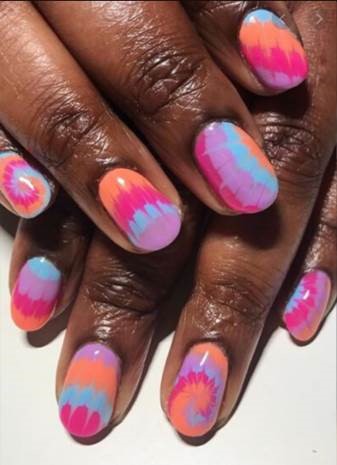 1st Step – BASE COAT
Apply a coat of Strengthener Base Coat.
Fortifying base coat for nails with Kukui oil.
2nd Step – COLORING
Apply two coats of white nail polish with gel effect Perfect Gel Nail Lacquer, and let it dry between coats.
3rd Step – TIE DYE
After the color coats, wait for 5 minutes.
Cut a section of a sponge – the type you use to do the dishes, for example – and paint it in 4 shades of choice of extra fast drying nail polisher Smart Nail Lacquer.
Draw the desired effect in the sponge. In case you want a tie dye in lines, draw 4 straight lines in the sponge, each one in a different color.
Slightly apply the sponge to your nails, gently tapping.
Suggestions of colors of Smart Nail Lacquer:

4th Step – TOPCOAT
Put on a layer of the topcoat with gel effect Perfect Gel Top Coat, so your nails will be even shinier.
5th Step – DRYING DROPS
Finally, apply some Nail Polish Drying Drops.
Incredible, right? Why don't you try it yourself?